Providing the marketing power for Kingsley Guy's uplifting spiritual books about unseen worlds is important work for me. It feels like I'm fulfilling another piece of my soul plan – using my marketing skills to bring to the world literary masterpieces that will help humanity awaken to the divine within.
I've done a lot of entrepreneurial and marketing work in the past. In my earlier ventures, however, I wasn't combining my love for marketing with my spiritual interests. The publicist work I am doing for Kingsley's books is establishing the prototype for marketing support I will provide to other authors as well. This support will help these important spiritually-oriented books realize their full potential.
We will be publishing his seminal work, the consciousness-changing, spiritual memoir Piercing the Veil: A Skeptical Journalist Discovers Unseen Worlds, in early 2018. This was preceded by the publication of the Second Edition of Kingsley's beautiful and inspiring, critically acclaimed, spiritual-historical first novel, Queen of the Heavens.
Here is a chart that shows the key initiatives that will support Kingsley Guy's written gifts in realizing their optimal impact on the world.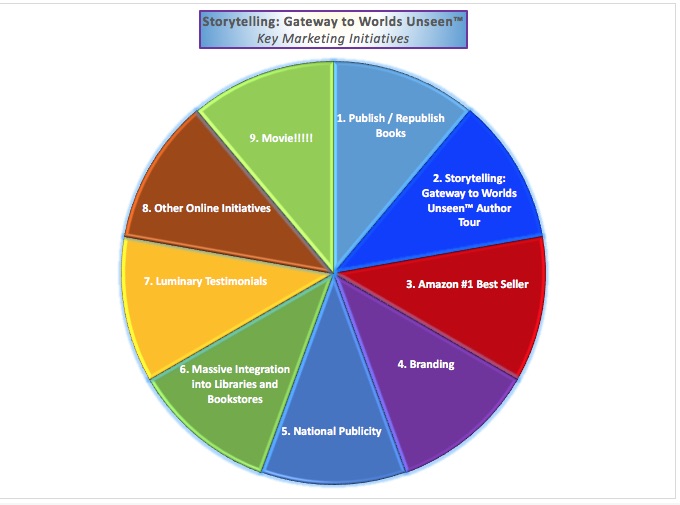 1. PUBLISH / REPUBLISH BOOKS
Kingsley's first book, Queen of the Heavens was initially positioned primarily as a historical novel. We repositioned it to resonate with people with spiritual interests. Here is the new cover, which includes testimonials on the back.
Here is the original cover.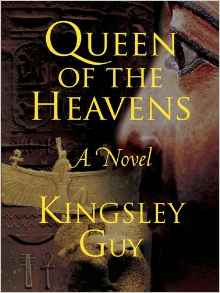 We wanted the updated photo (left) to invite people (and particularly women!) to read what this handsome, sensitive and sexy author has to write, not just to show his professional, journalistic side.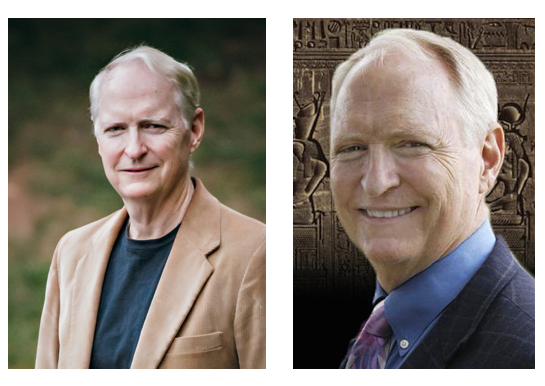 In addition to beautiful new front and back-covers, we commissioned the drawing of 25 beautiful renderings that are in the Second Edition, published by ttlharmony Publishing!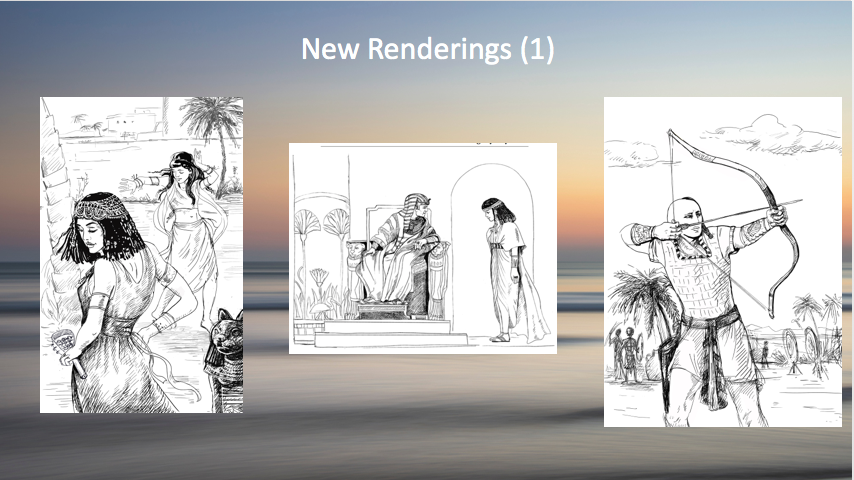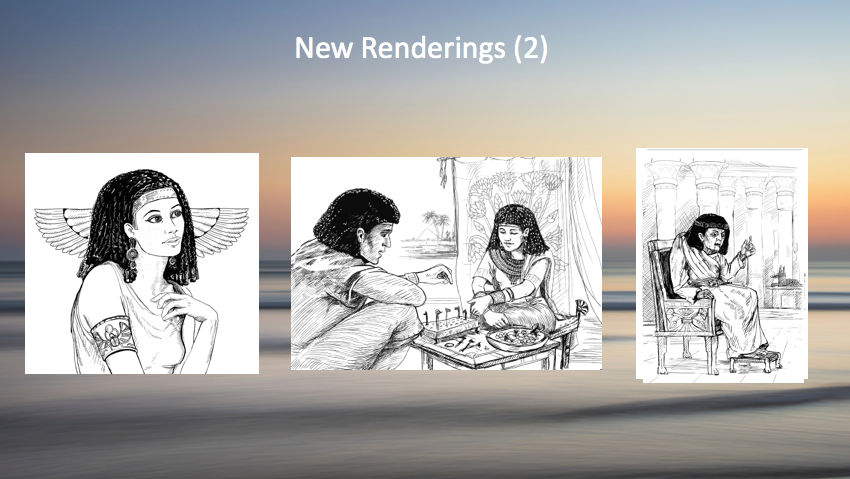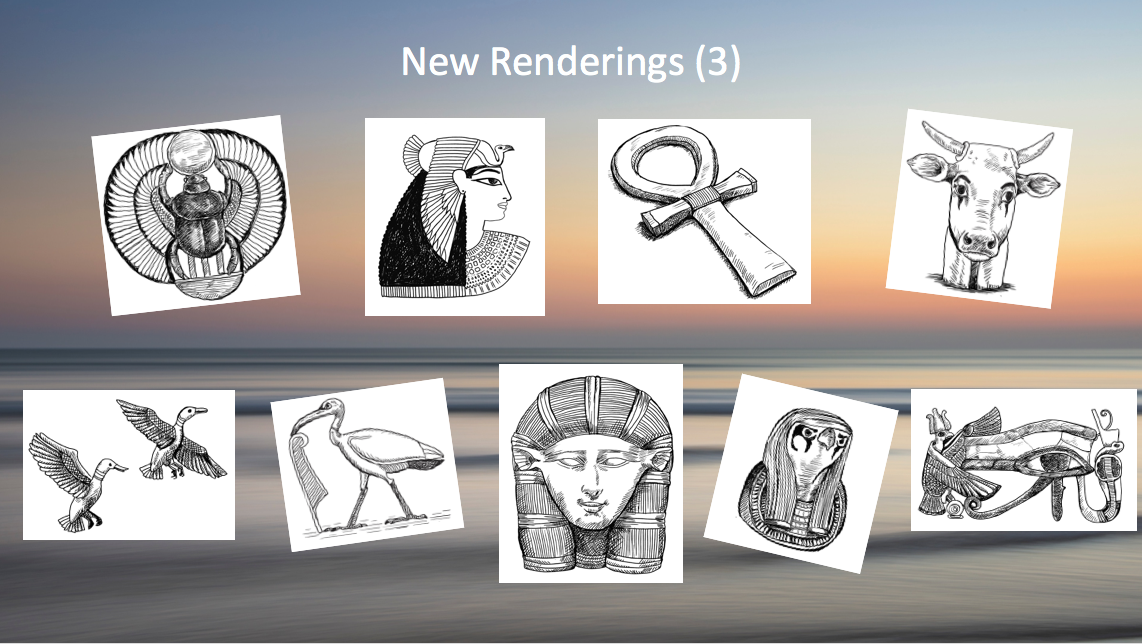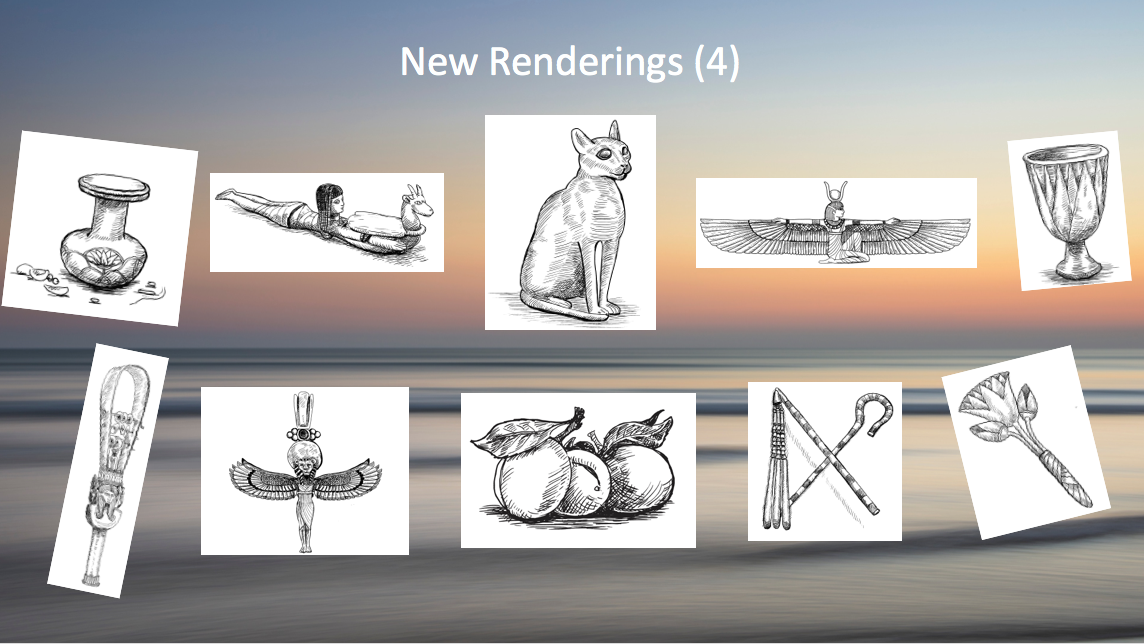 Here is the new map.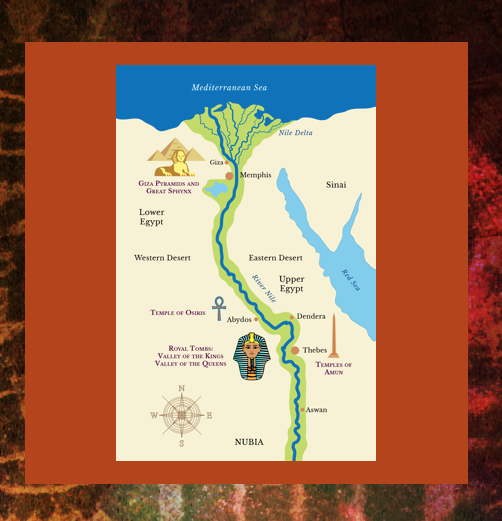 Kingsley's seminal second book, Piercing the Veil: A Skeptical Journalist Discovers Unseen Worlds, will be published in early 2018.
2. STORYTELLING: GATEWAY TO WORLDS UNSEEN™ AUTHOR TOUR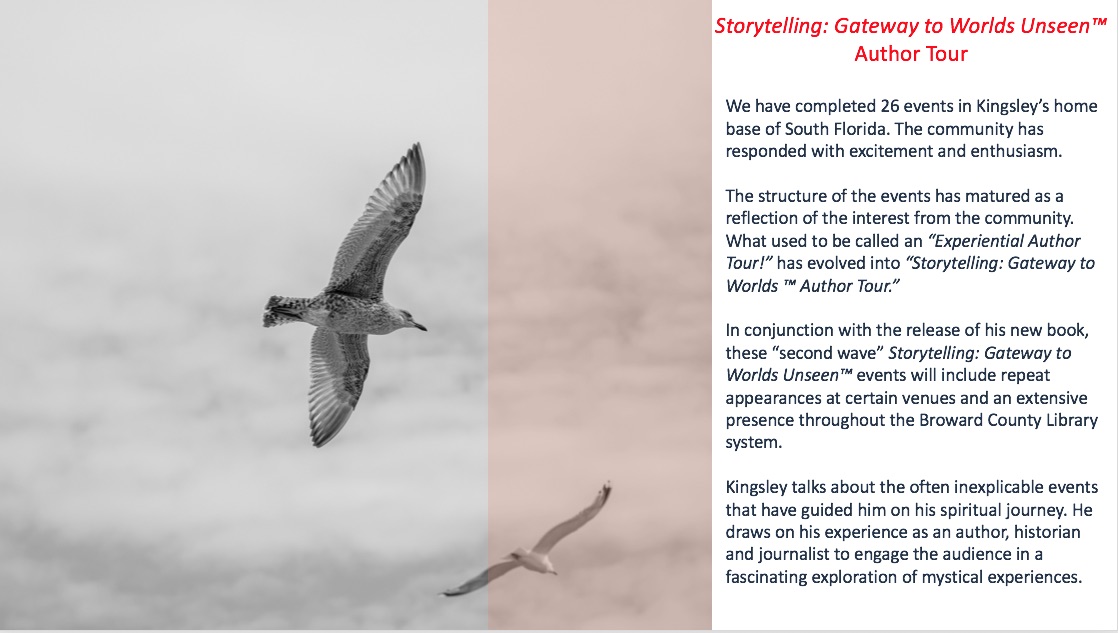 We are grateful to the Museum of Discovery & Science in Fort Lauderdale for giving us the opportunity to be an integral part of its exciting exhibition, "Lost Egypt: Ancient Secrets, Modern Science." We helped kick off the event on the opening weekend in February 2017 by talking to visitors about Egypt from a booth on the exhibition floor. We subsequently contributed 12 live shows over the course of three weekends at the museum's Keller Science Theatre. These events were customized for children and a family audience.
Michael Aguinaga, Public Programs Manager of the Museum of Discovery & Science in Fort Lauderdale, wrote: "I highly recommend working with this company. They are amazing speakers, captivating, and understand how to connect to their audiences. It was such a pleasure to work with Lynn and then to get Kingsley afterwards … I mean, I was in heaven with them. Highly recommend." The President/CEO of the museum, Kim L. Cavendish, wrote: "… many thanks to you and to Kingsley for doing so much for our guests, and adding so much to the impact of the exhibit. …"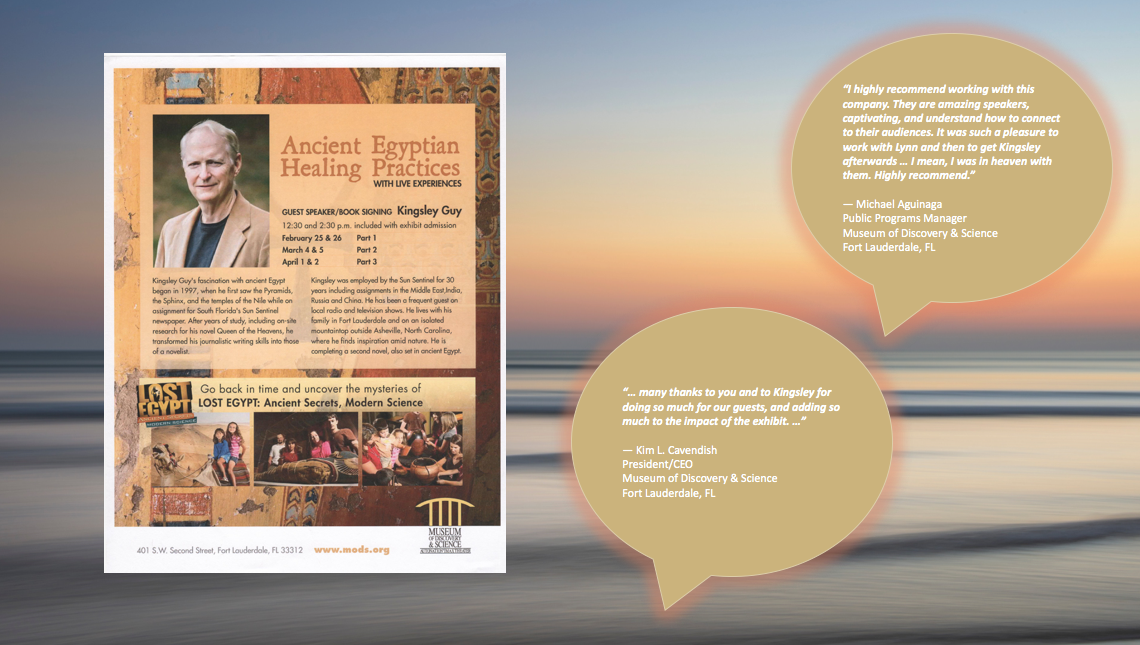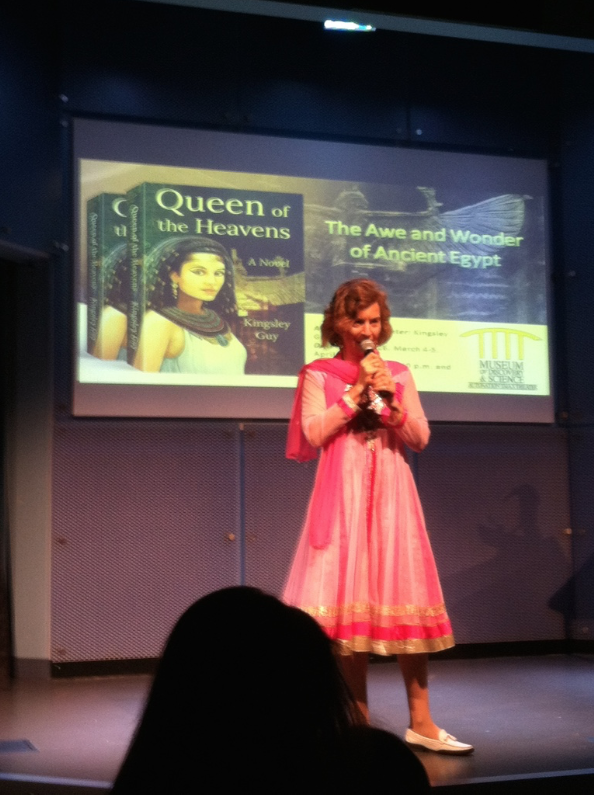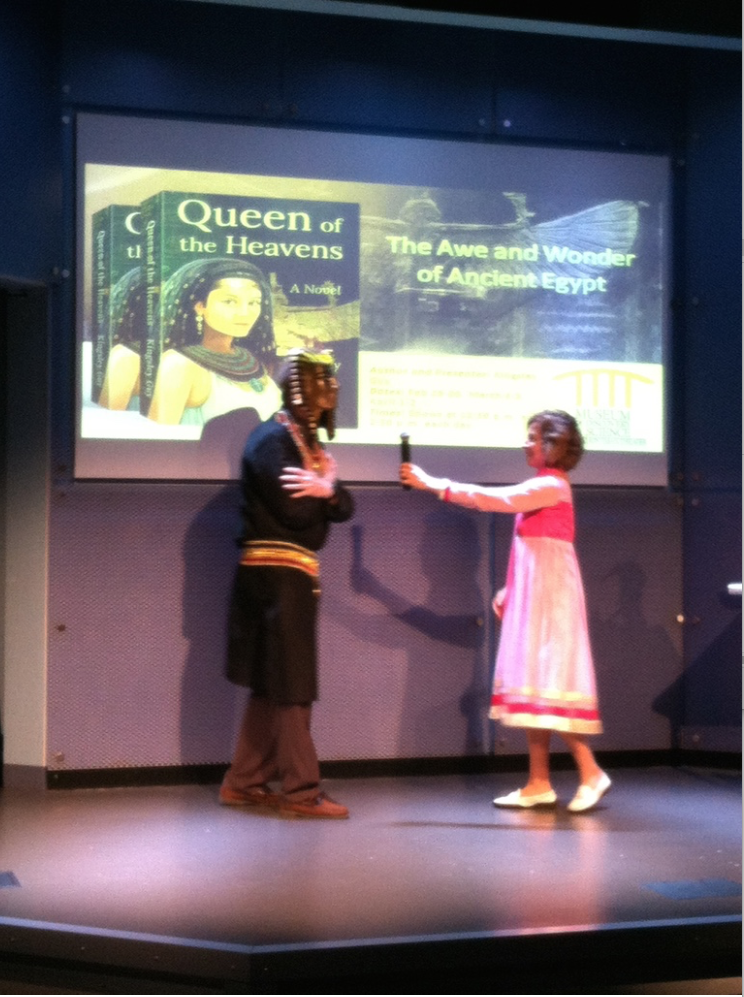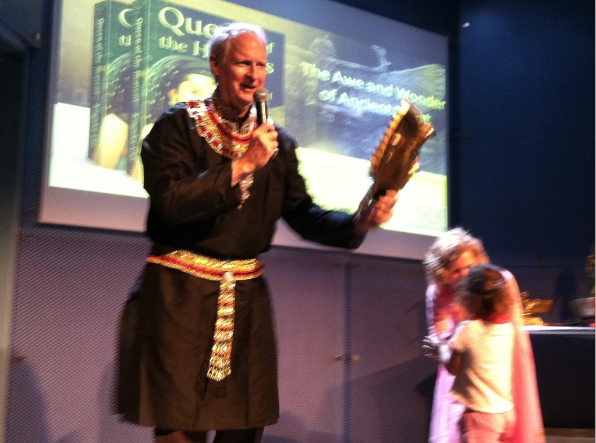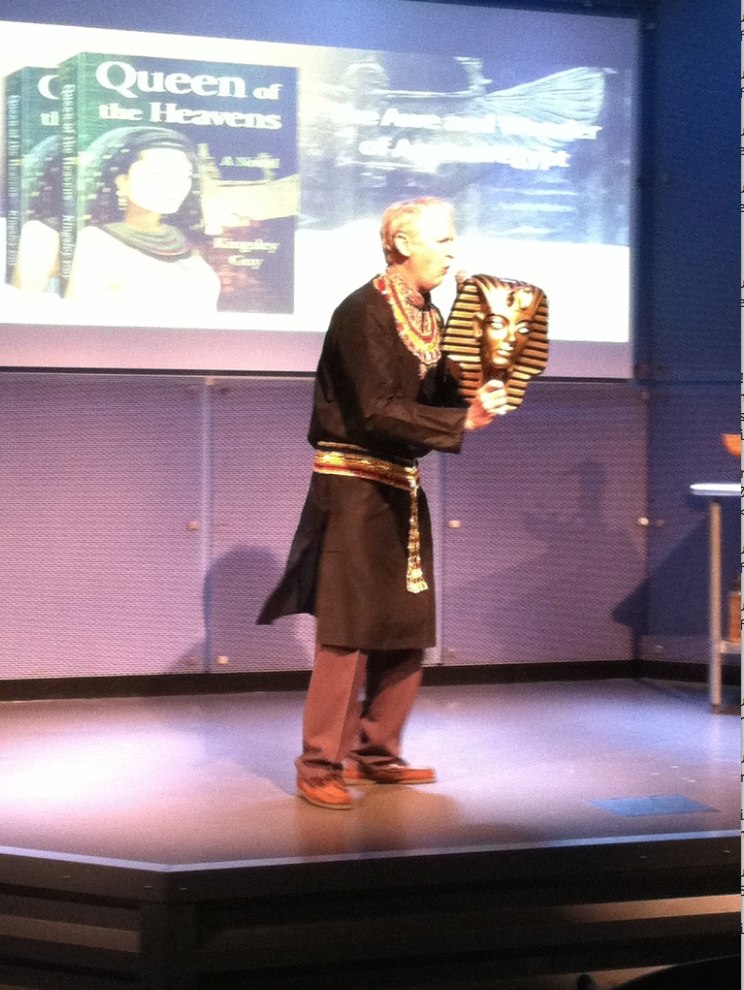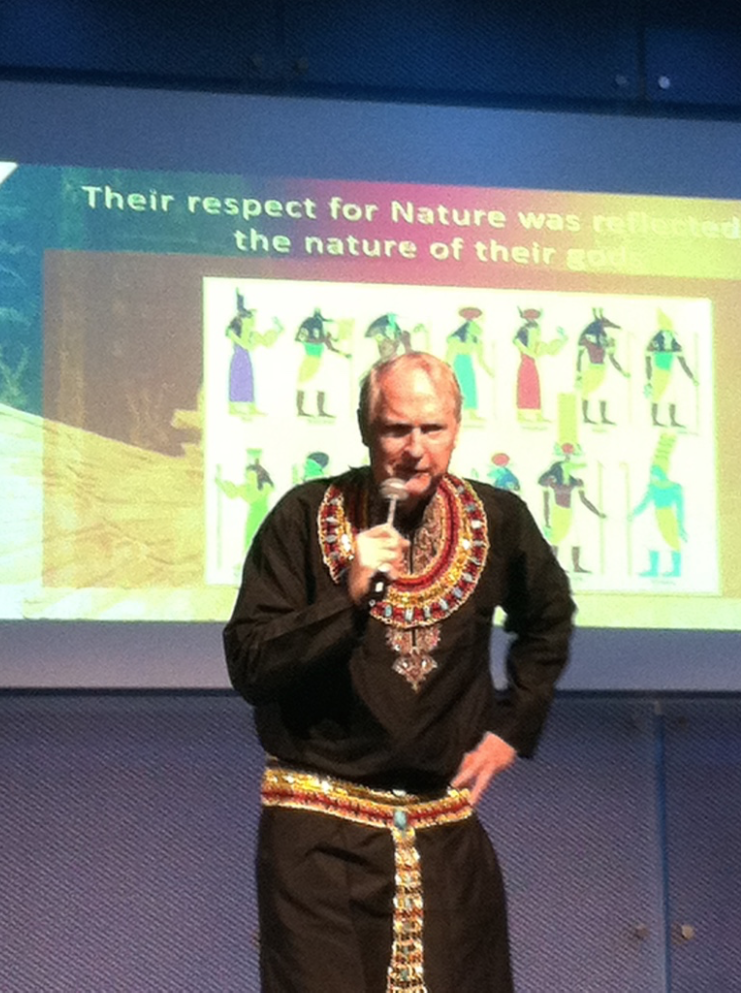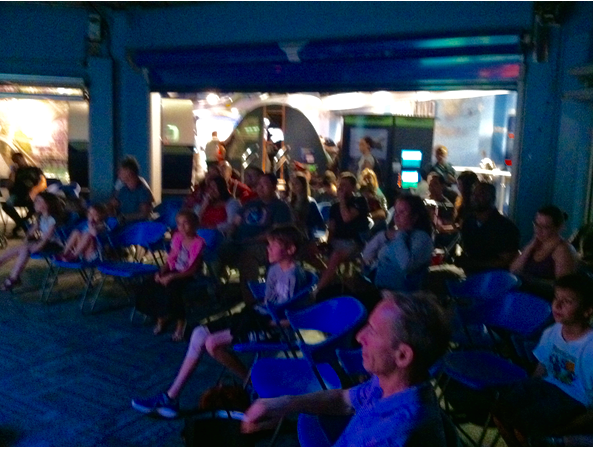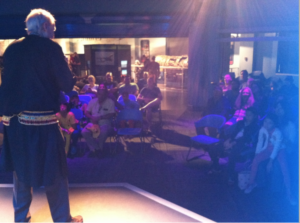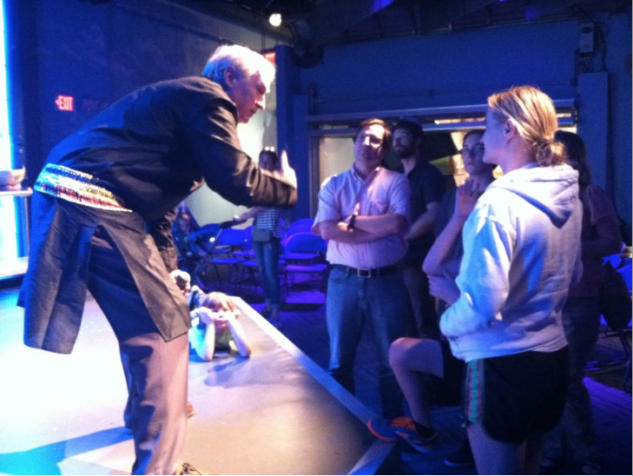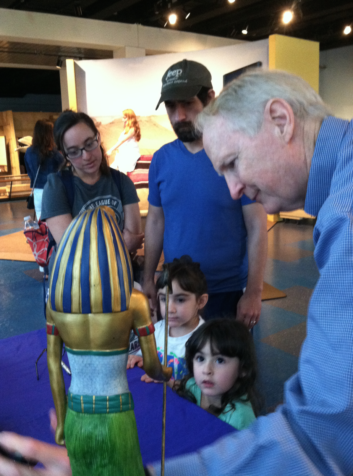 We kicked off the launch of ttlharmony Publishing's Second Edition of Queen of the Heavens with a magical book launch at Zen Mystery on May 5, 2017.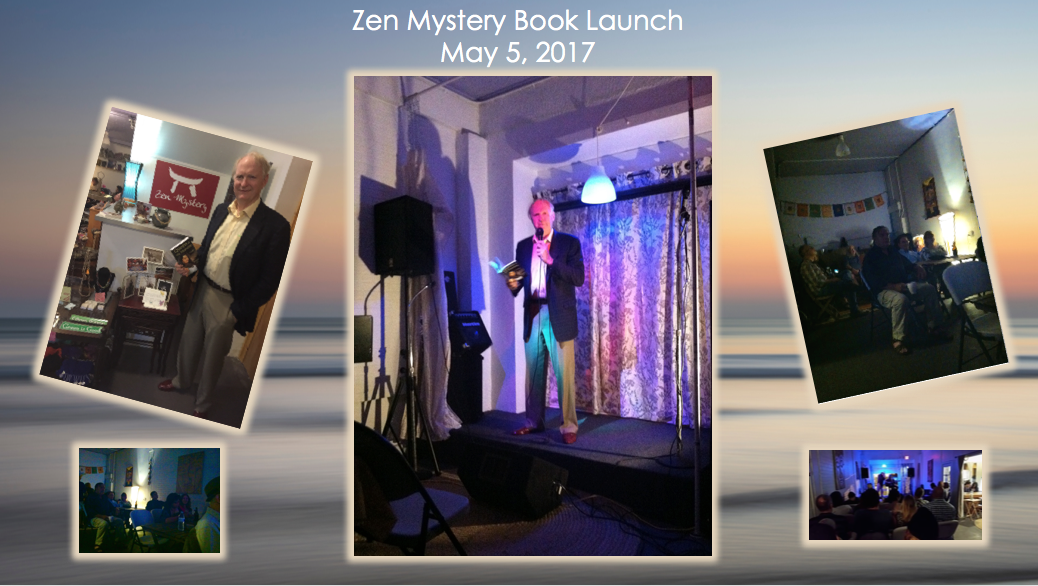 We have completed nine of the Storytelling: Gateway to Worlds Unseen™ Author Tour events in Fort Lauderdale. We held a Fort Lauderdale Reading Center Event at ArtServe on May 16, 2017, one at Galt Ocean Mile Reading Center on May 22, 2017, one at the Rotary Club Fort Lauderdale South on June 16, 2017, one at the New Age Books and Things on June 17, 2017, one at the Flowlife Holistic Lounge on June 27, 2017, one at Nova Southeastern University Lifelong Learning Institute (LLI) on July 19, 2017, one on September 26, 2017 at the Monday Book Club, one on November 9, 2017 at CUUPS and one at Galt Ocean Mile Reading Center on December 7, 2017. In each of these events, Kingsley shared his inspiring personal spiritually-awakening experiences that were key in transforming him from a skeptical former newspaperman to become deeply in touch with unseen worlds.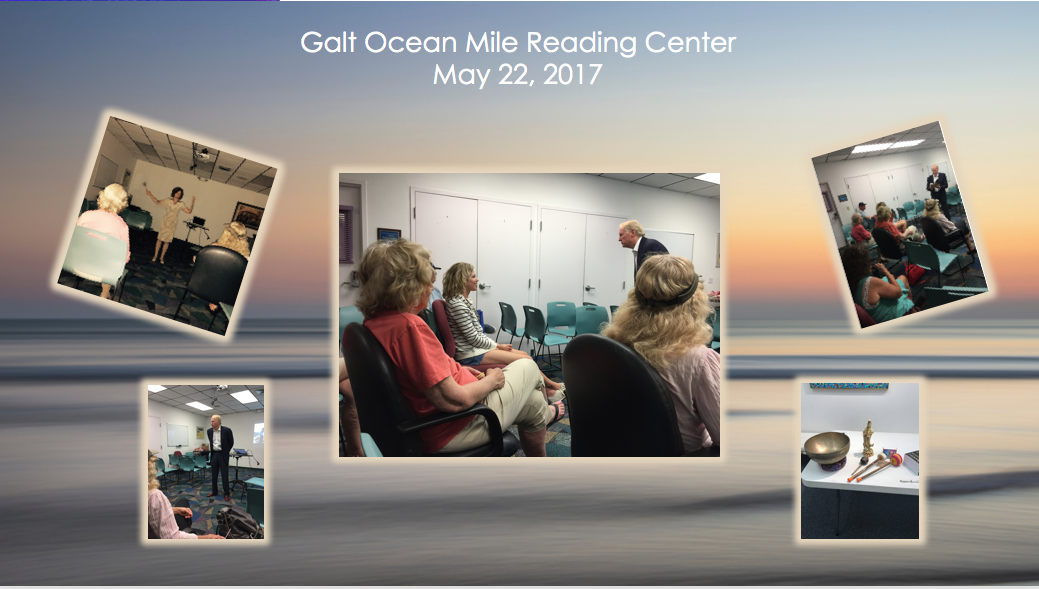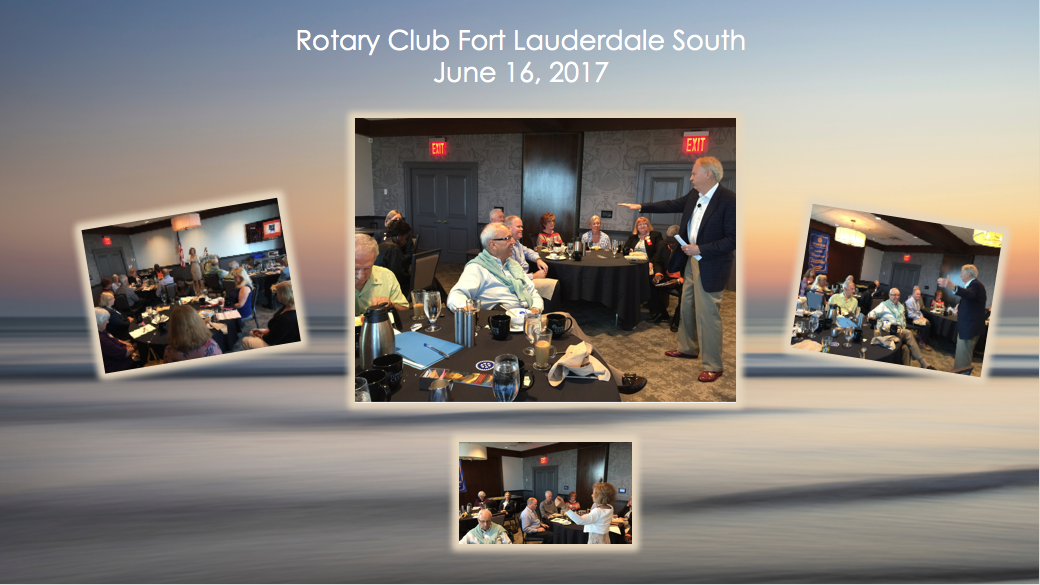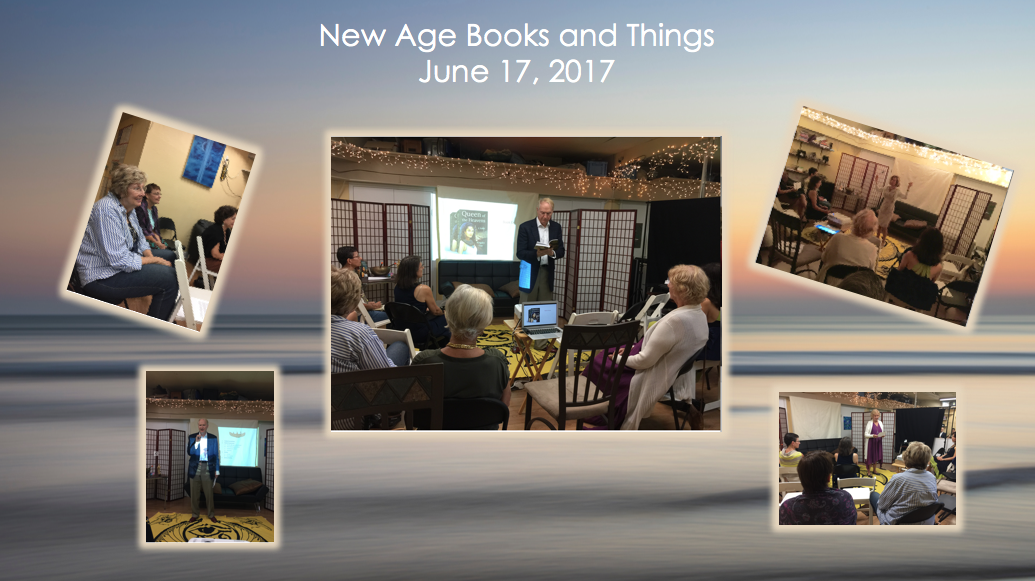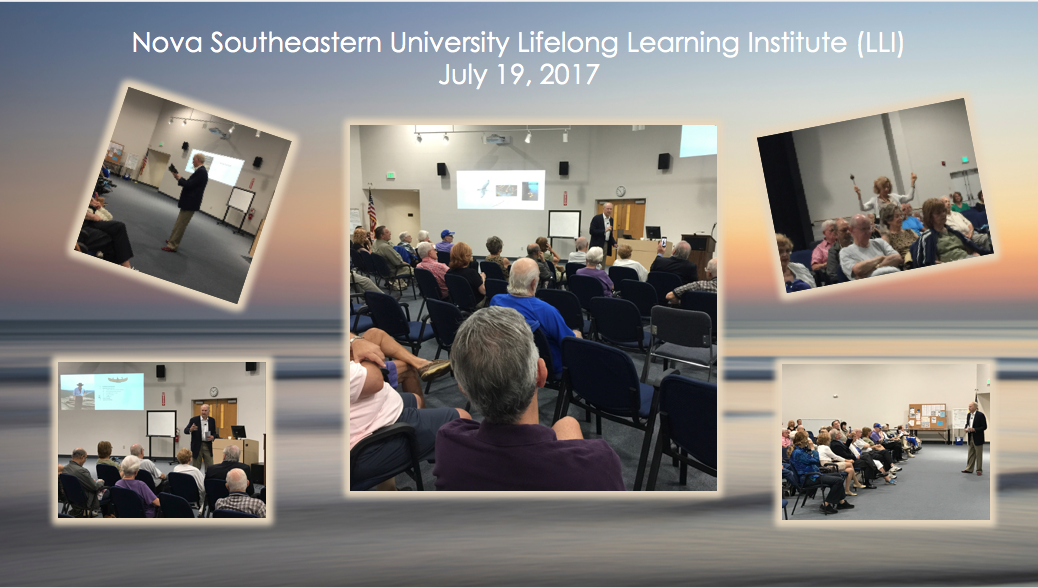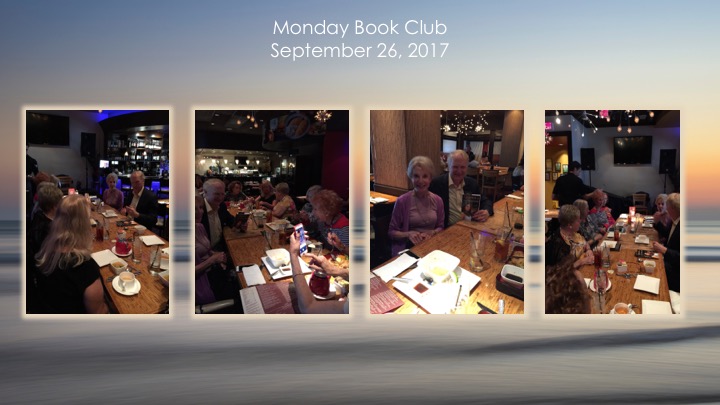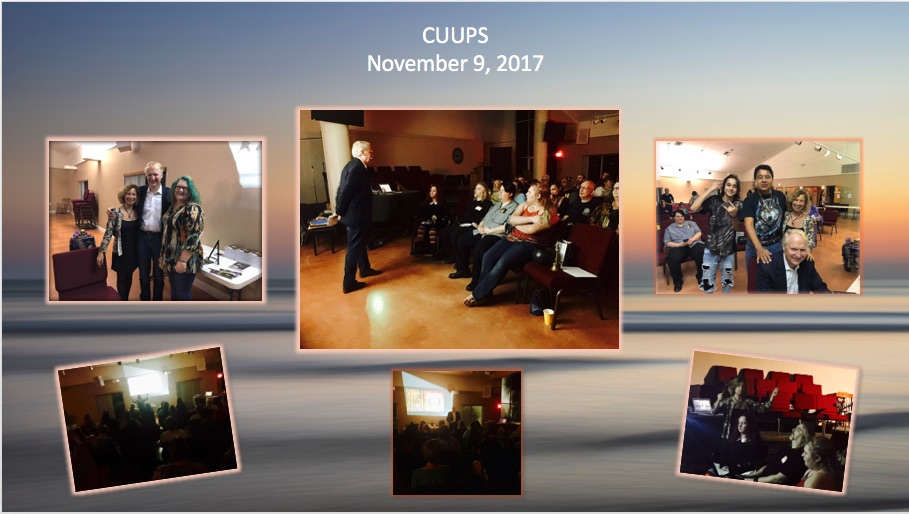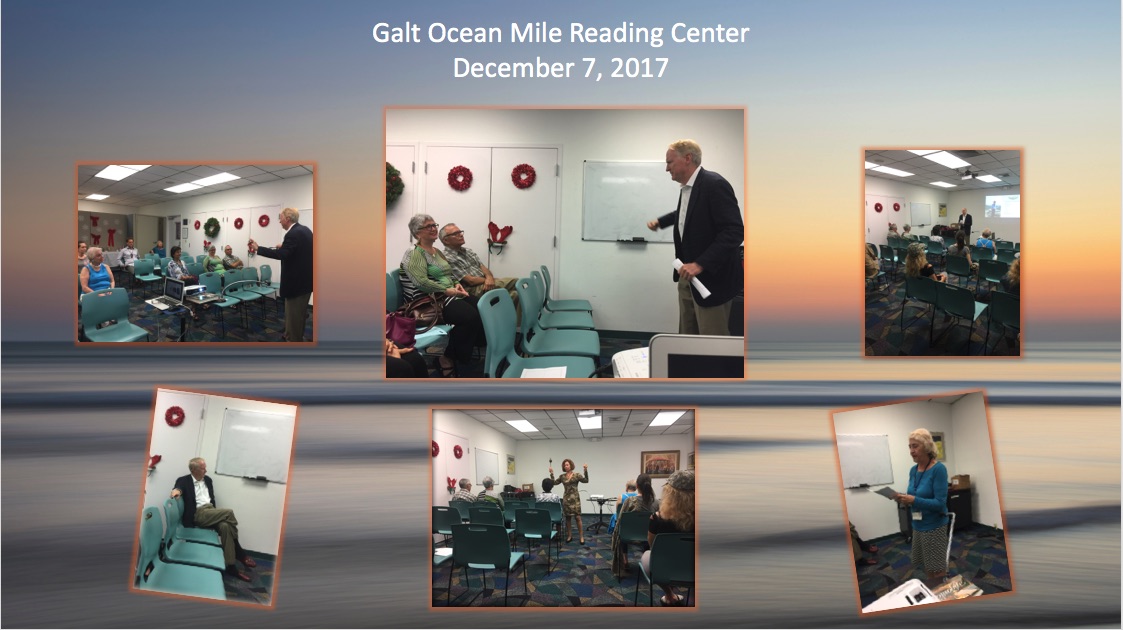 Lynn S. Bachrach fills out the events by providing the audience with an experience reminiscent of the energy healing that the lead character in Queen of the Heavens accessed.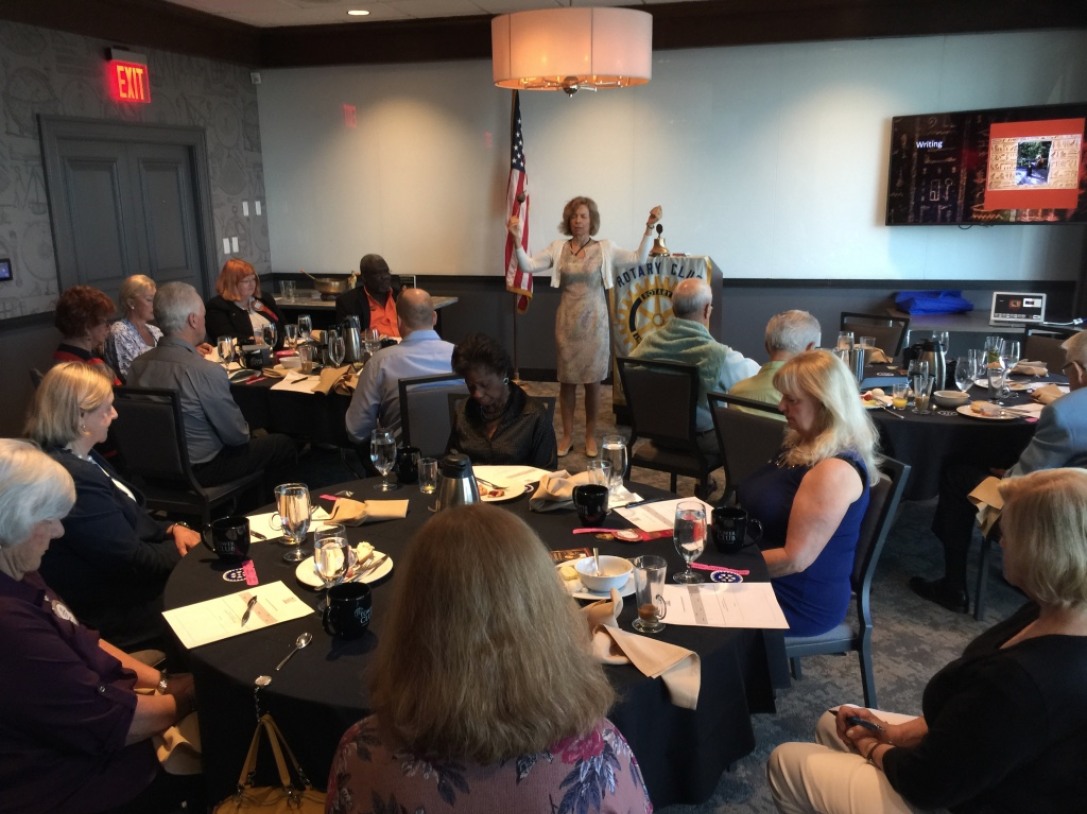 Here is what event attendees are saying:
"Thank you to both you and Kingsley for this morning's presentation. … It is always spell-binding to listen to Kingsley. … [He] was always a good storyteller, but oh my he just keeps getting better! Hard to believe he could improve on excellence, but he has! … Your exercise left me speechless!! And that doesn't happen often. All I really wanted to say was WOW! … Thank you again, my dear Lynn. Love and hugs …" — Lesleen Bolt, President, Rotary Club of Fort Lauderdale South

"Thank you to you and Kingsley for being at our book club luncheon today! It was Fabulous and I have never heard the ladies be quite so quiet for such a length of time! Clearly they were interested and somewhat mesmerized by the story telling and all the factual information. One lady whispered to me, "This was the best meeting we have ever had!" So there you have it, and that's thanks to the two of you! I'm looking forward to the next book! Lots of love to both of you!" — Lesleen, Monday Book Club

"Thanks, Lynn! We enjoyed having you guide us to pain and stress relief!" — Rotary Club of Fort Lauderdale South

"I highly recommend working with this company. They are amazing speakers, captivating, and understand how to connect to their audiences. It was such a pleasure to work with Lynn and then to get Kingsley afterwards … I mean, I was in heaven with them. Highly recommend." — Michael Aguinaga, Public Programs Manager, Museum of Discovery & Science, Fort Lauderdale, FL

"… many thanks to you and to Kingsley for doing so much for our guests, and adding so much to the impact of the exhibit. …" — Kim L. Cavendish, President/CEO, Museum of Discovery & Science, Fort Lauderdale, FL

"Many of those who attended had really great, positive comments to make …. I enjoyed it and both you and Kingsley are animated speakers. It was a real success and I definitely want to have you both return in the season. … I think Kingsley opened up a whole field of interesting subjects and I was especially interested in his travels in India." — Marlene Barnes, Head Librarian, Galt Ocean Mile Reading Center and Beach Branch Library, Fort Lauderdale and Pompano Beach, FL

"We were so fortunate to have Kingsley and Lynn as special guests at our Cuups meeting on Thursday night. Together they create a truly enhanced experience that leads one perfectly into reading this very special book. This was not the first time that I attended this presentation yet I felt the enthusiasm and excitement all over again. Kingsley's description of his worldwide adventures as well as his psychic experiences here in this country are mesmerizing. The manifestation of the Saraswati statue gives me chills every time. The healing rattle at the end of the presentation is life-changing. Everyone present felt the vibration.

Lynn and Kingsley both are healers and beautiful human beings. This presentation is not to be missed. We look forward to having them back again to share each new leg of their Journey." — Alba Kauffman

"It was amazing! I think I just experienced my Kundalini moving." [Please note: this participant reported a reduction in stress from eight out of ten in stress and seven out of ten in pain, to zero in both categories, during a five-minute community energy healing experience.]

"I had always thought of healing as something for the body, but the sounds vibrated through my mind tonight and I could feel layers of stress falling from my mind. My home environment and family are the worst they've ever been, but tonight I feel so so much more at peace. Thank you. xoxo"

"Became completely relaxed by the rattle. Entered trance state of complete relaxation. Muscle cramps experienced before healing were gone. Bursitis pain alleviated. Hip pain more bearable. Stress was not bad before, but felt more at ease after. Thank you!"

"The rattling relieved my desire to fidget in my seat. I was able to be still, which is normally hard for me. The sound of the singing bowl opened my sense awareness, and I could hear every sound in the room. The ending silence "lifted" the stress and pain, or rather I was lifted above these feelings and could leave the stress and pain behind while I existed outside of it. Thank you!" — Luna

"Twice I felt shifts as if it was drawing the pain out."

"Towards the end I saw beautiful colors going from violet to royal blue to lavender. Vibrations were very intense in my right ear which is my deaf side."

"Towards the end I started seeing colored lights sliding before my eyes, green and yellow."

" … saw two flashes of light."

"My headache went away and my neck stopped hurting. I also feel more at peace."

"… Feeling more tranquility and less shoulder pain. Thank you!"

"Feeling very relaxed after. Enlightened."

"I certainly felt less stress afterwards and I definitely have less pain as well. Namaste."

"Deep breathing and sound bath is very calming for me."

"Felt something good – calm experience."

"Vibrating at the end!"

"Feel very warm and chills."

"Definite physical presence during your space holding. Thank you."

"I have fibromyalgia. It was interesting, I felt warmth as you passed by."

"Felt a breeze of cold air."

"Rattles' sound very trancing."

"Really felt peaceful when the rattles were over my head."

"… Tonight was truly wonderful and I am so happy to share this experience with friends and fellow seekers. The world needs all messages of hope. …" — Barbara Van Voast, Owner, Van Voast Interiors

"Great energy. Thank you."

"Saw Red King's Crown Plush. Time stood still several times. Saw Virgin and baby."

"You don't want to miss this author Kingsley Guy. So enjoyed both his talk and his novel!" — Maria M. Arbesu Dutra

"… The story of your journey is extremely interesting. I was both amused and had goosebumps about the "coincidences" involving frogs! Thank you!" — Karen Unger, CEO at Affinity Franchise Partners

"Thank you for sharing and healing. Very nice to meet you both and receive all that you offer. We are blessed. Love and happiness, …"

"A very old presence surrounded me. …"

"Sound of rattle focuses your mind to clear it of thoughts that cause stress. Also, pain level is reduced in the same way."

"I felt a ringing sound when the shaking of the instrument stopped – very peaceful – like floating in space – very relaxed."

"As the shaking sound increased, I closed my eyes and entered a meditative state where I was attempting to echo or be in synch with the vibrations. That was calming for me as the environment felt more comfortable. I felt more at ease and a warm sensation in my body. It felt good."

"Never experienced healing with the rattle like that. Wonderful."

"What a wonderful event. I highly recommend going to the next one."

"Path to spiritual healing."

"Wonderful! Enjoyed."

"Enjoyed it. Thanks."

"Notable difference!"

"Works for me. Thanks."

"A very interesting experience. Thank you! …"

"I was invited or had the opportunity to be in three other places tonight but "something" led me here. Now that is synchronous. Thank you!"

"My posture became more erect and helped to alleviate tension and pain. Feel light-headed – which is good!"

"Thank you so much for sharing this ceremony with us. I don't have a tremendous amount of pain or stress, but I felt it was a strong, calming, positive experience and I'm so glad to have been able to share it."

"Very relaxing! Thank you!"

"Relaxation"

"This was my first experience with this type of healing. Thank you."

"Relaxing, calming experience …"

"Warm hands …"

"Experienced relaxation and a calmness."

" … my perspective on dealing [with my stress] changed."

"So relaxing. I could have gone to sleep. Could feel the stress leaving. Great feeling."

"Relaxed."

"…very touching. …"

"Right place."

"A wonderful teaching and learning experience. Much to be explored!!"

"Thank you!"

"Thank you!"
In the eight completed, five-minute Community Energy Healings, (and stay tuned, we have many more of these scheduled!), the channeled energy on average helped the communities of 111 people reduce their stress and pain levels significantly. The "before" stress levels of an average of 4.1 out of 10 dropped to 1.9, a reduction of 54%, and the "before" pain levels fell from an average of 3.4 to 1.9, a reduction of 44%, after these five-minute community energy healing experiences.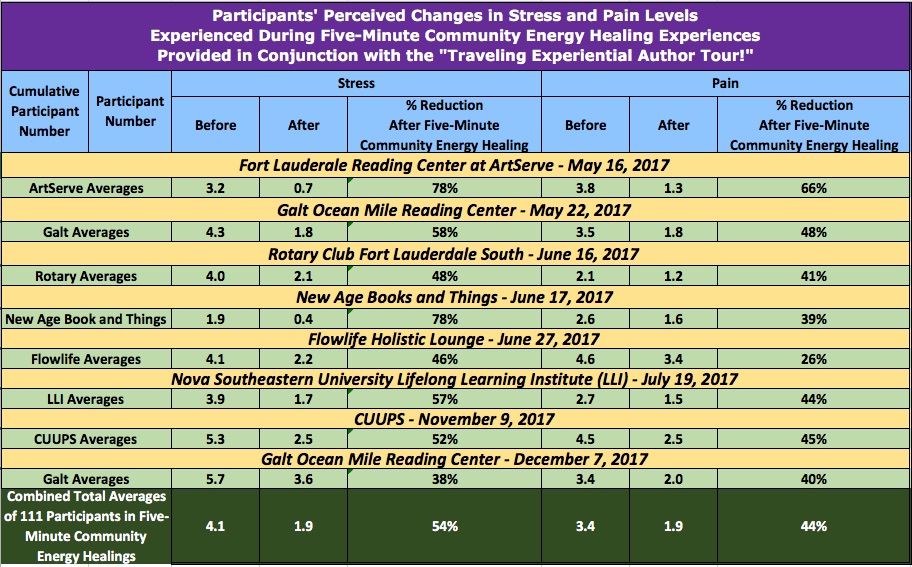 Please note that in the event at Flowlife Holistic Lounge we experimented with a different scale and terminology. In place of the traditional "stress" and "pain" levels, we used what we thought might be a more positive measure — changes in "emotional well-being" and "physical well-being." For future events, we have decided to revert to the more commonly used and accepted stress and pain scale, which appears easier to understand and quantify. The Flowlife participants reacted positively to the experience, but the numbers were not quite as high as using the previous definitions and scale. This was not an "apples to apples" comparison. Still, we decided to incorporate the data since they would not inflate the "positive" numbers in the study. We trust that over time, the long-term averages will give us a good overall idea of the impact of these experiences. In conclusion, even though we used a different scale in this one event, by integrating these approximate numbers, we feel the overall data will be more complete.
To spread the word about the tour, we have been sending information about it to more than 600 people in our databases. We have also been maintaining a steady online and social media presence. This has includes regular updates on FaceBook pages, LinkedIn, our Author Page on Amazon, Google My Business listings, and various other websites.
The Traveling Experiential Author Tour! events have attracted groups of six to upwards of 50 people (the latter a shared book fair at Barnes & Noble). All the presentations have been very well received (see the comments above from participants), and people always linger to talk and ask questions. People have asked for us to repeat the event at the same venues and suggested additional locations.
3. AMAZON #1 BEST SELLER
Simultaneous with the release in early 1918 of Kingsley's second book, Piercing the Veil: A Skeptical Journalist's Experiences with Unseen Worlds, we will use a variety of initiatives to get an Amazon #1 Best Seller ranking, even if just for a short period of time. We believe this will help support our overall plan and we believe that with some carefully orchestrated initiatives this will be possible to achieve. Stay tuned. We may look for your help.
4. BRANDING
Here is the Extraordinary Value Proposition for the Project Brand: Kingsley Guy.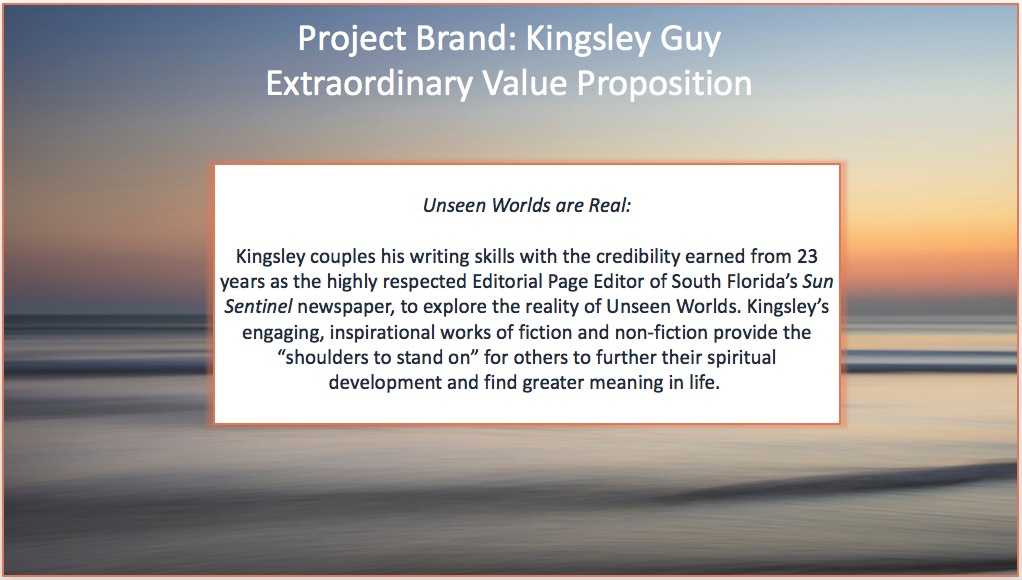 Here are our four Targeted Audiences.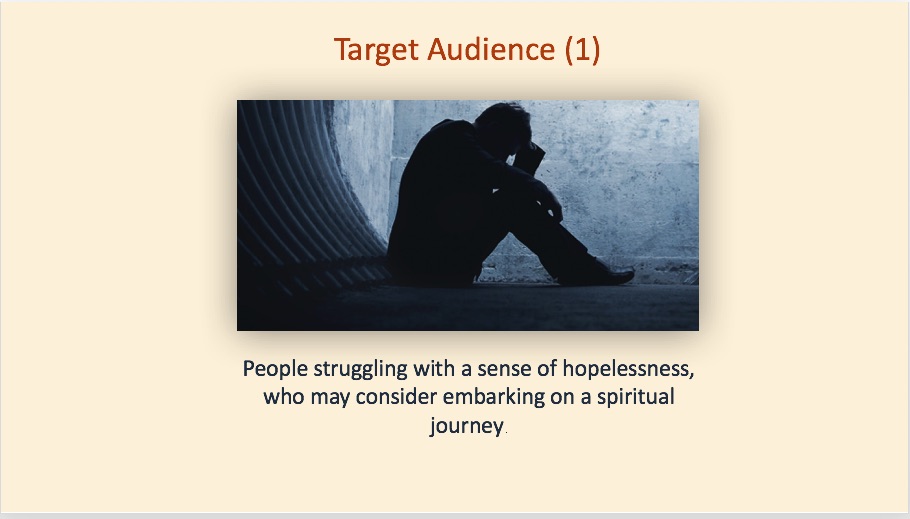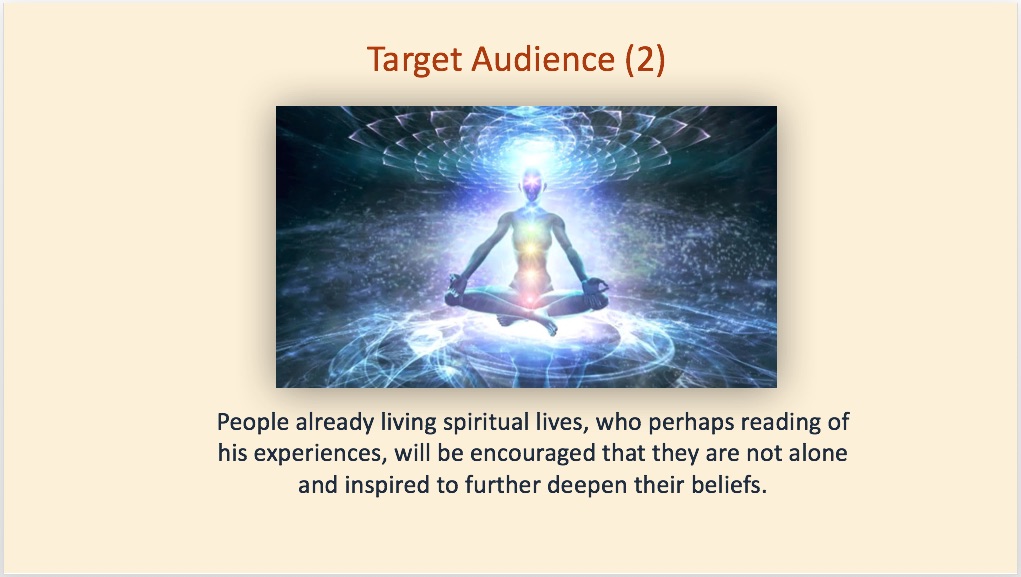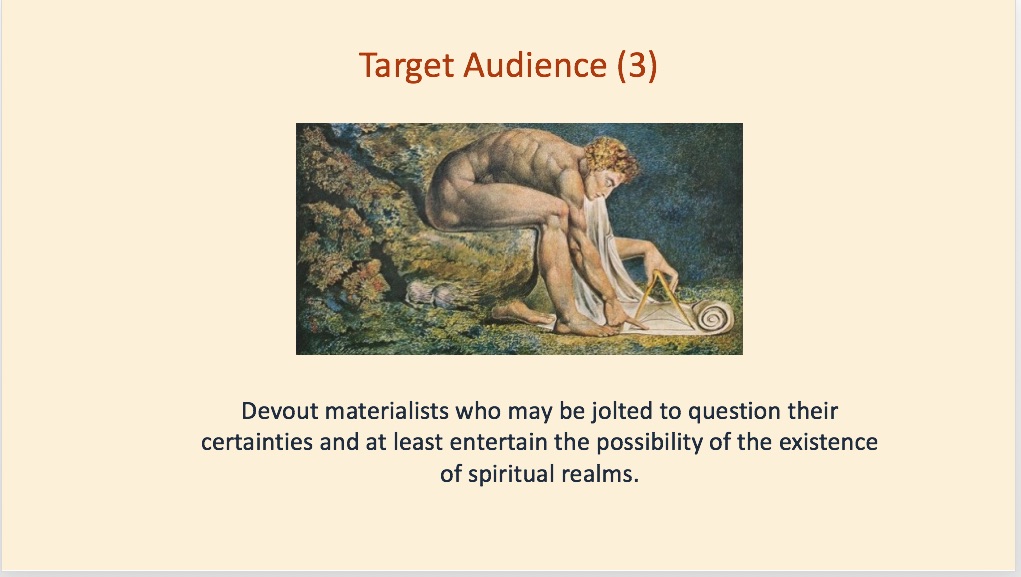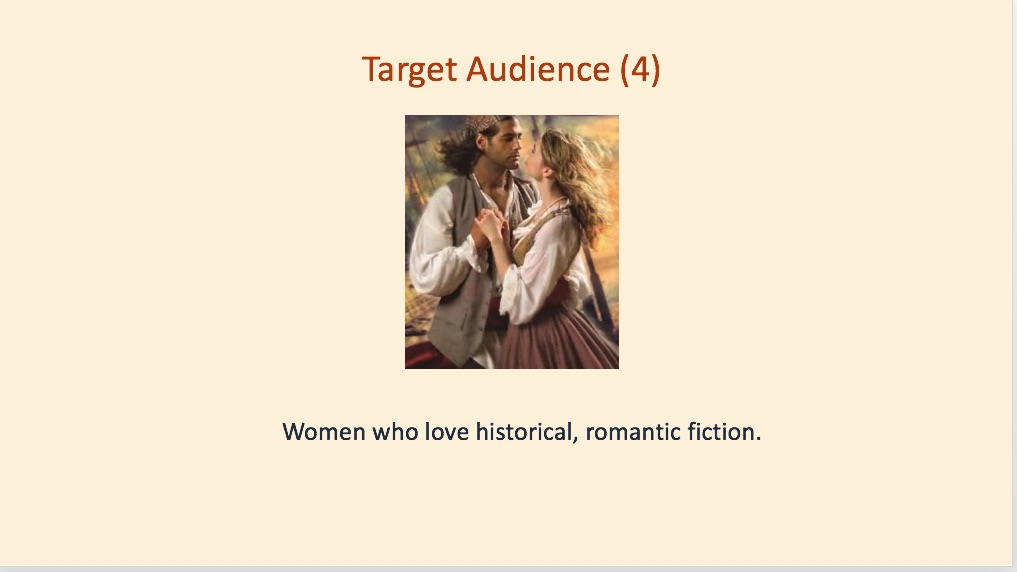 Here are our three Formidable Challenges with Solutions.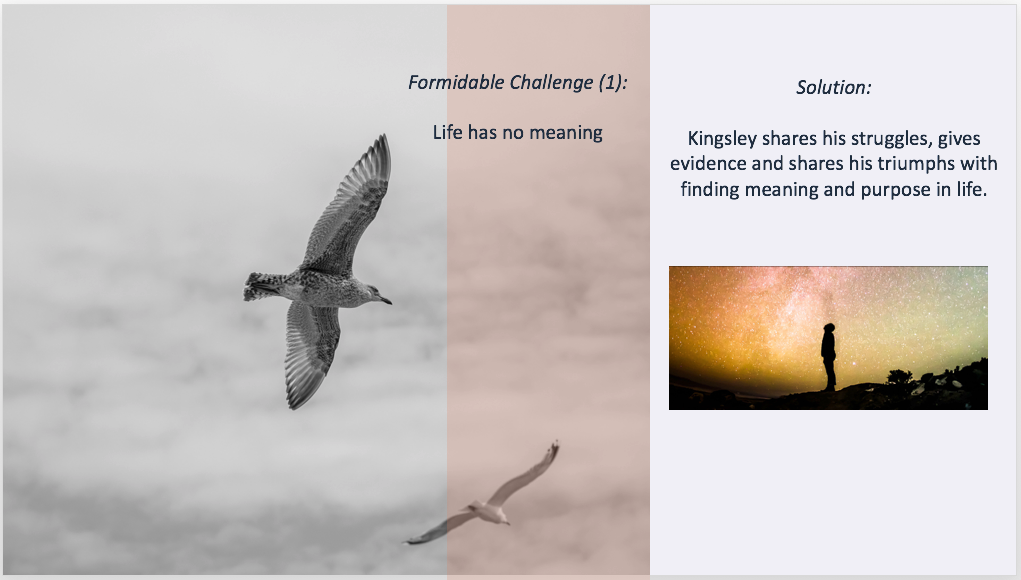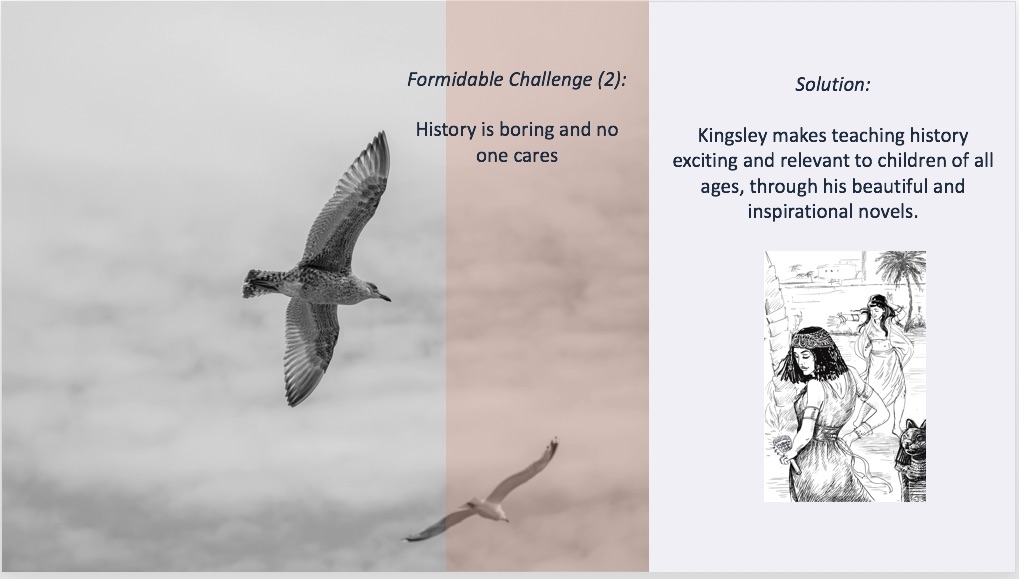 We believe that as we walk into an improved "future" society, companies (and books and services) will optimally serve the needs of others by providing community experiences and support. In line with this belief, we have branded the drive behind Kingsley's need to write … Storytelling: Gateway to Worlds Unseen™.
Here is an image of a mock-up on the new Kingsley Guy website that will be completed and live by the end of 2017.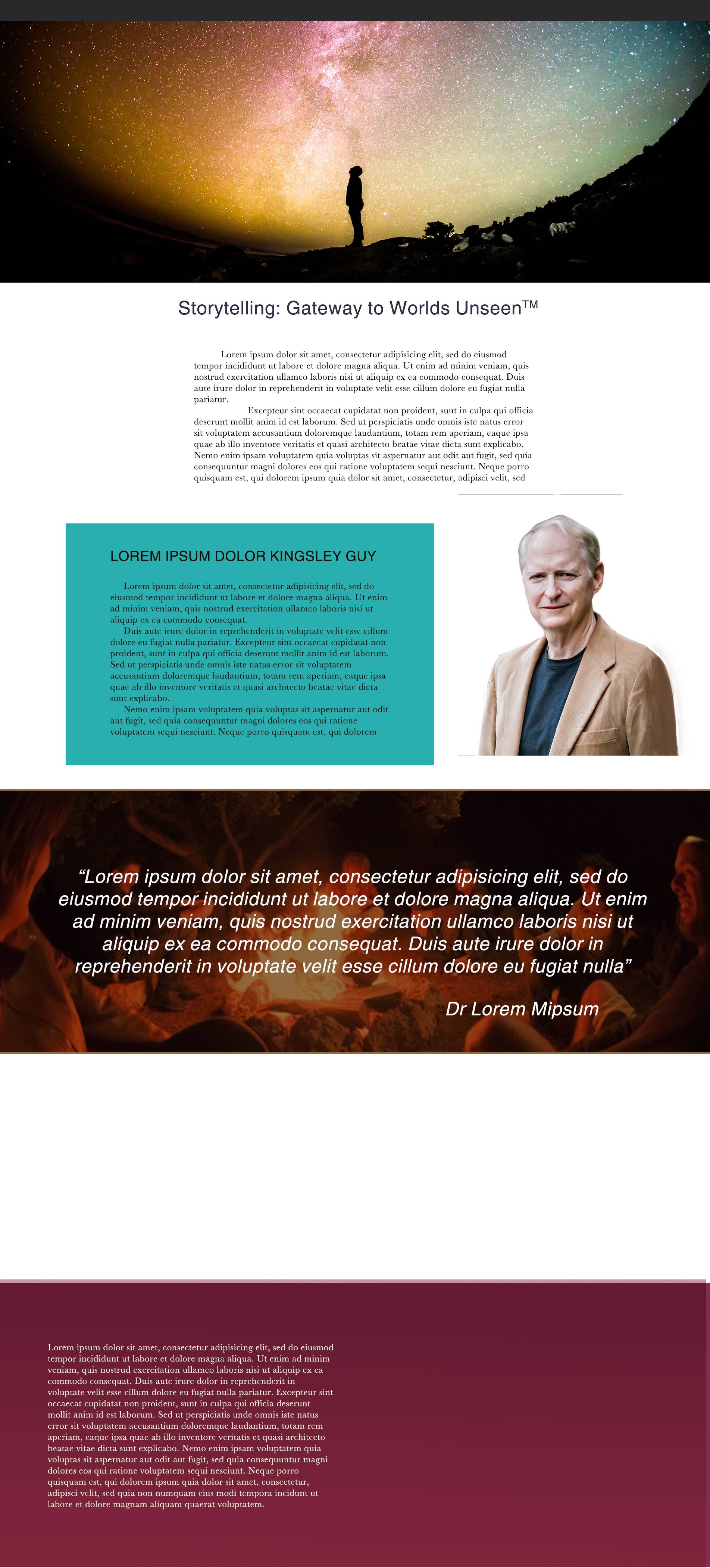 We have launched a Queen of the Heavens interactive community, "WWTD – What Would Tuya Do?™". This closed Facebook Group is designed for people who love Kingsley Guy's spiritual-historical novel Queen of the Heavens. It will enable them to extend and personalize the reading experience and explore further how to awaken to the divine within. We envision creating a community that feels useful to people and draws them to visit often, and whenever they encounter a challenge. We will attempt to "channel Tuya" and moderate discussions within the framework of "What Would Tuya Do?™"
It will be interesting to see how this initiative unfolds. It has not taken off with tremendous activity. However, we believe in the long-term, its "time will come." It is possible that this initiative will fully realize its potential as the book gains momentum and is being talked about, so that people become familiar with who Tuya is. So, stay tuned – this one may take a while, but we believe, all in divine timing, it will play a cohesive role in reinforcing the Queen of the Heavens community.

We have updated our bookmarks that focus on extending our readers' reading experience through the "WWTD – What Would Tuya Do?™" page.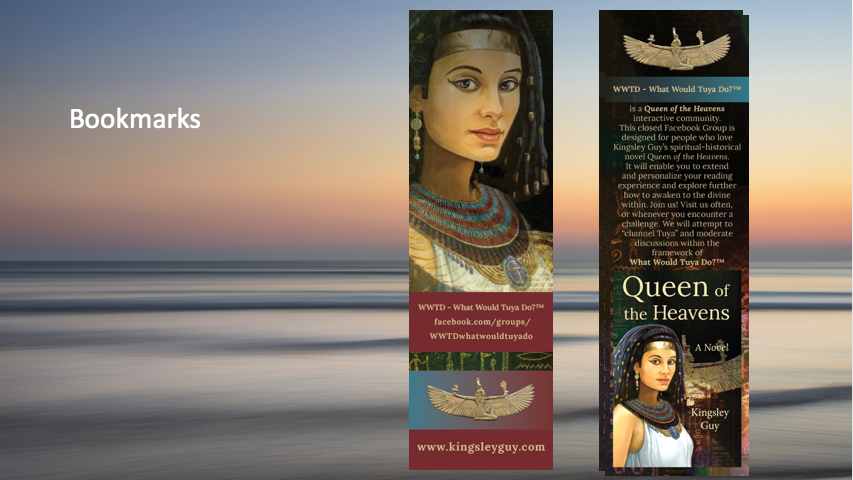 Here is a sample post and response.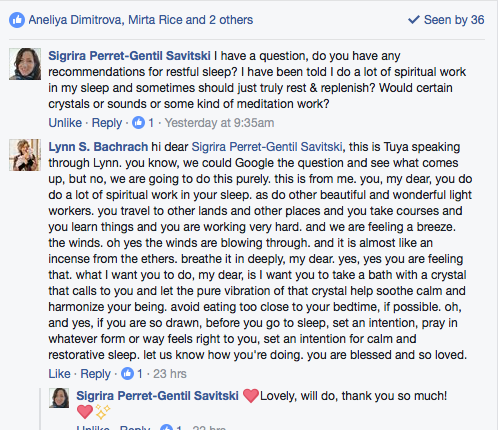 5. NATIONAL PUBLICITY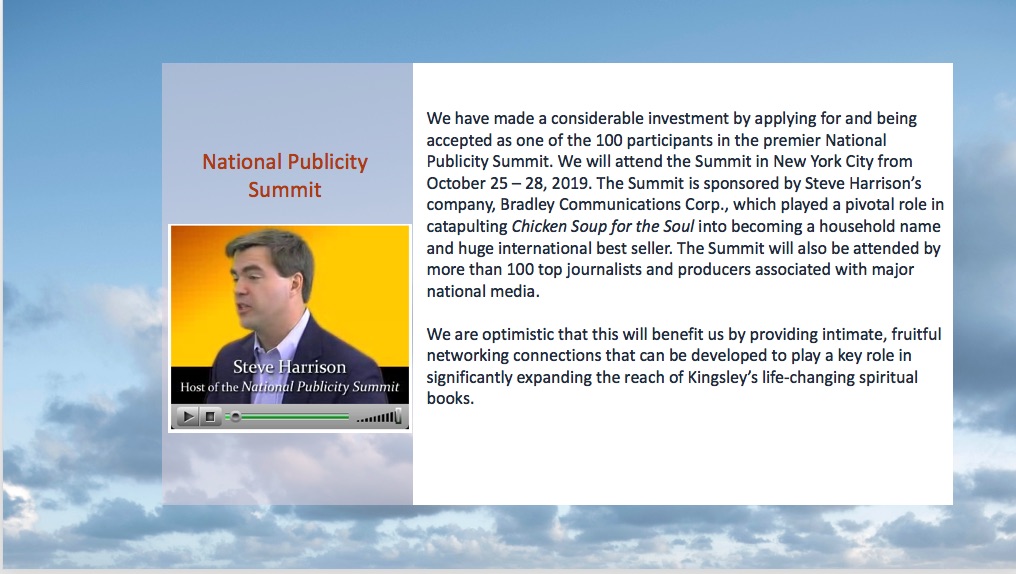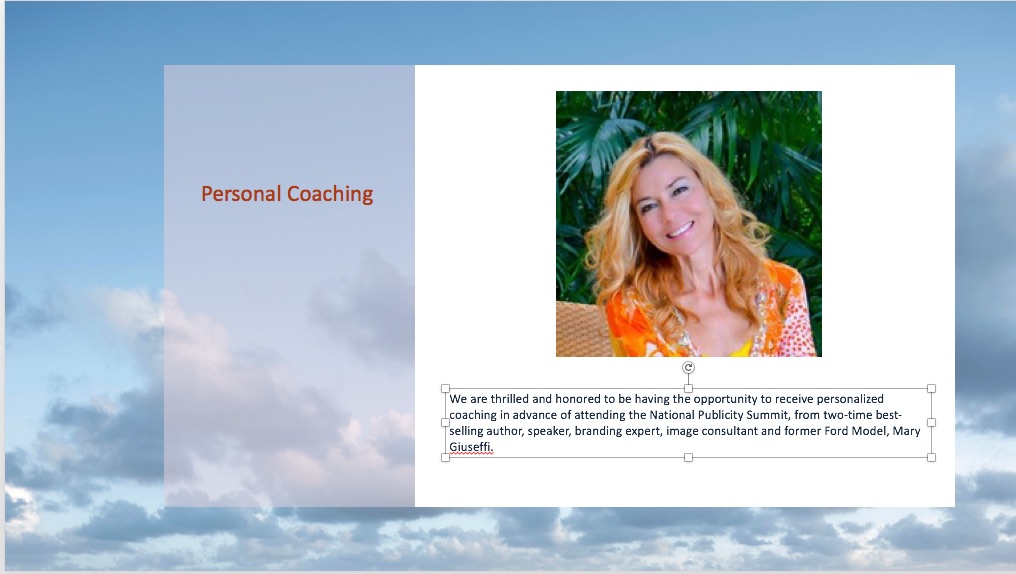 6. MASSIVE INTEGRATION INTO LIBRARIES AND BOOKSTORES
According to the Pew Foundation, 58% of American have library cards, 69% indicate their local library is important to them, but less than 5% have been in a bookstore in the past year!
Achieving wide distribution of the book through libraries is a very important initiative. This will be accomplished by a methodical and relentless plan of contacting libraries, backed up by a thorough and effective marketing plan that builds interest in the book and leads residents to request it in their local libraries.
We are thrilled, delighted and grateful to have been invited to participate in the Fort Lauderdale Barnes & Noble Bookfair on Saturday, July 1, 2017 at 2 p.m.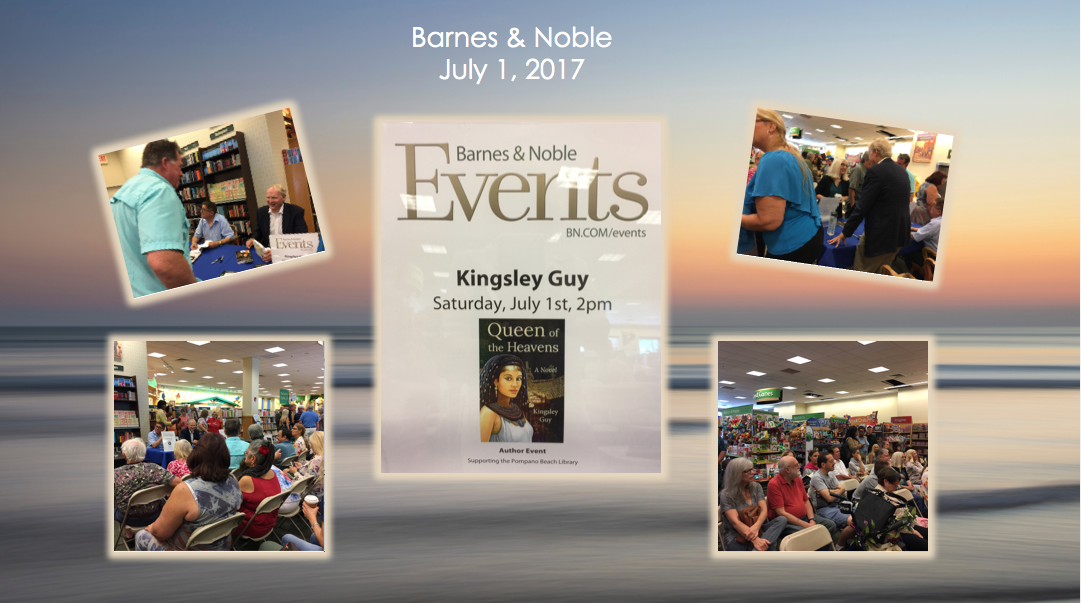 Although Barnes & Noble often doesn't introduce "indie" books until 10,000 books are sold, we are planning on capitalizing on this wonderful introduction into the world's largest brick-and-mortar bookstore. Simultaneous with our massive integration into libraries initiatives, at an earlier time than initially planned, our intention is to do whatever it takes to facilitate Queen of the Heavens and Unseen Worlds: How a Skeptical Newspaperman Found Meaning in Life becoming available in as many Barnes & Noble domestic and international bookstores as possible.
7. LUMINARY TESTIMONIALS
Queen of the Heavens is capturing the hearts of readers. Independent Amazon and Goodreads readers have rated it higher than the # 1 Amazon Best Sellers in related genres.
The charts below reflect readers' enthusiasm. The books were rated on September 2, 2016 on a scale of one to five, with five being the highest rating.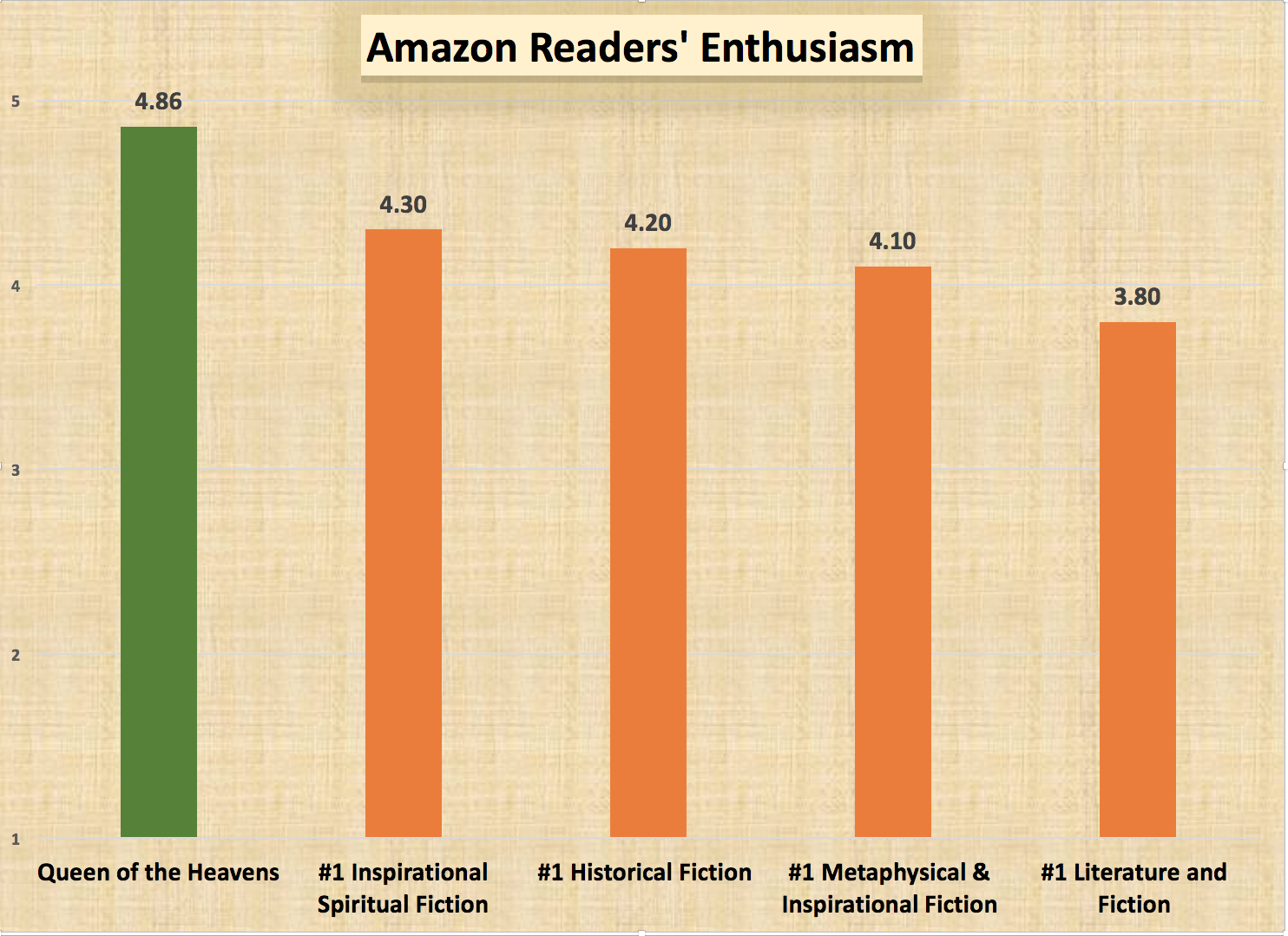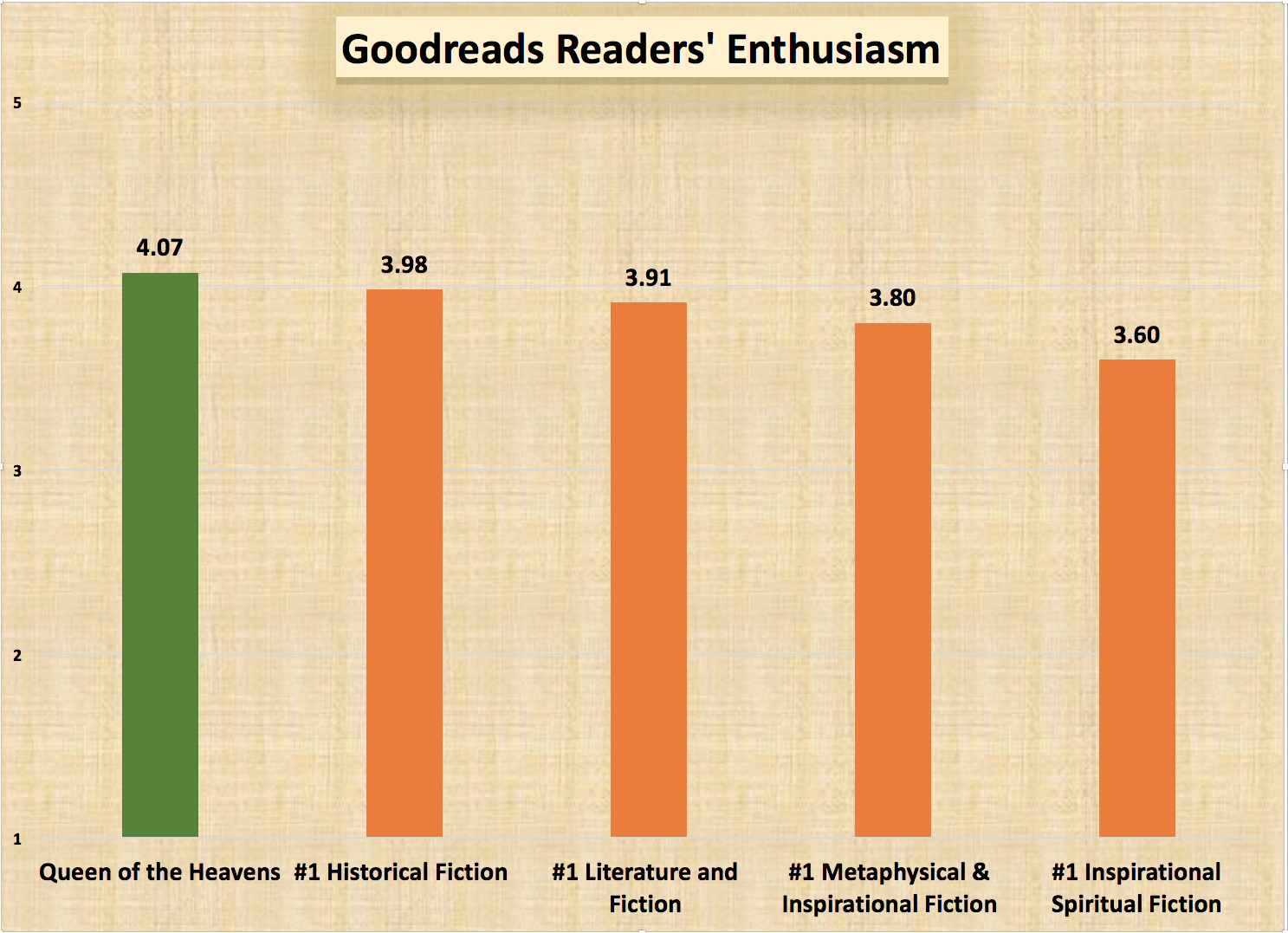 To further support this wonderful readership endorsement base, we are launching a luminary testimonial campaign, where we will methodically court well-known experts and celebrities in a variety of related fields.
8. OTHER ONLINE INITIATIVES
Other online initiatives are being positioned as background, complementary initiatives to support the overall reach of Kingsley's books. We have adjusted the browsing categories for the Queen of the Heavens Amazon Books, and have been able to significantly improve its ranking. Our ultimate goal is for Queen of the Heavens, Piercing the Veil: A Skeptical Journalist Discovers Unseen Worlds, and all of Kingsley's books, to reach and maintain Number One best seller-status on all major best seller lists.
9. MOVIE!!!!!
Our key long-term initiative is to have Queen of the Heavens and Piercing the Veil: A Skeptical Journalist Discovers Unseen Worlds turned into movies. This will help Kingsley's work better influence humanity, as we believe it is meant to do. Eventually, we may also explore the possibility of a musical for Queen of the Heavens. But all in divine timing.
Our intention with this project is to always keep our hearts focused on fulfilling our soul plans. We will support our overall mission of helping humanity awaken to the divine within, and Kingsley's of Storytelling: Gateway to Worlds Unseen™. We will have fun and love every step of the process.
We know that books almost never catch the public's fancy overnight. Nonetheless, we are confident that with the quality of books we are working with, the enthusiastic response Queen of the Heavens and the associated Experiential Author Tour! have already earned, and with the implementation of a second-wave, exciting, relentless and comprehensive marketing plan, we will realize our vision of making a significant contribution towards helping humanity awaken.