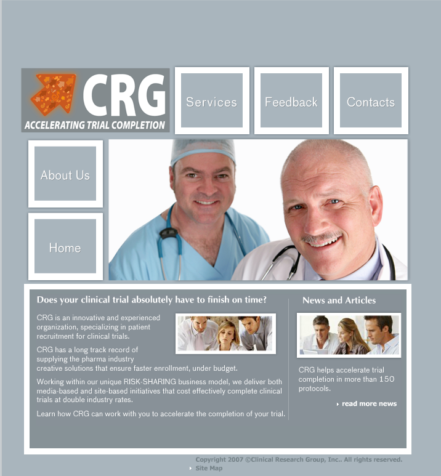 Clinical Research Group, Inc. ("CRG") is the company I founded in 1993 in Philadelphia and ran for 17 years with my late husband.
CRG was a risk-sharing company that recruited patients for drug trials. CRG had a long track record of success in finishing clinical studies early and under budget. We worked with most of the major and many medium-sized pharmaceutical and biotech companies on about 175 protocols in a variety of therapeutic areas.
CRG differentiated itself from competitors in three ways. First, CRG finished clinical trials at double industry rates. Second, CRG used risk-sharing fees. In contrast with conventional fees, we received fees calculated based on the number of actual enrolled subjects. So, when we accomplished what we were hired to help with, we both "won." Finally, in addition to conventional media-based initiatives, we also developed and implemented some proprietary local initiatives. Together, these combined initiatives provided the most cost-effective results.
In addition to the 175 marketing plans we prepared for our pharmaceutical clients, we also prepared over 525 preliminary marketing plan analyses that were integral to our business proposals. These gave us a competitive edge to consistently win contracts over more experienced and connected competitors.
Click here to read 26 CRG press releases.